Inventory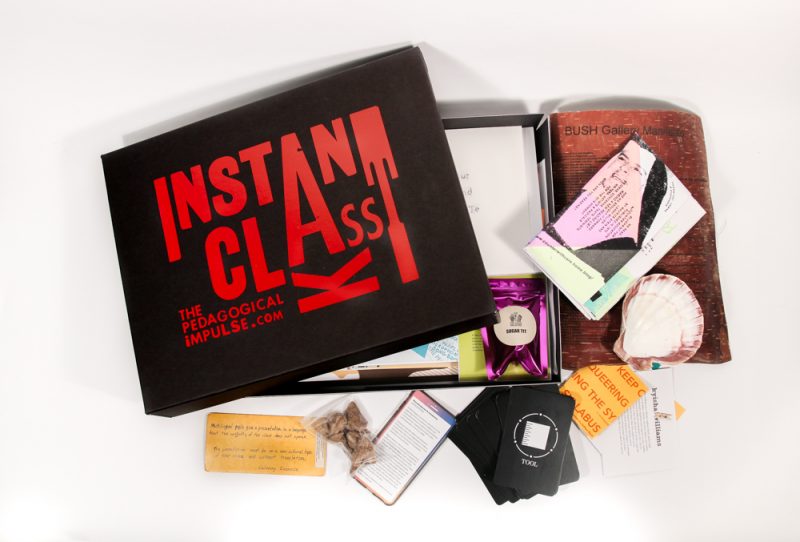 Anthea Black
Keep Queering the Syllabus, 2019
16-page zine with hand-stitched binding, limited edition letterpress bookmark on Mohawk carnival yellow paper
Zine: 7.5 x 4 .5 inches
Bookmarks: 1 x 9 inches
HANDBOOK: Supporting Queer and Trans Students in Art and Design Education, 2018
Edited by Anthea Black and Shamina Chherawala
Printed by Nick Shick and Queer Publishing Project
6 x 9 inches
Keep Queering the Syllabus is a contemporary art fanzine that contains personal snapshots of queer and trans artists, writers, and cultural producers, compiled by Black. The fanzine expands on the format developed by Black for the 'Queering the Syllabus' section of HANDBOOK: Supporting Queer and Trans Students in Art and Design Education, which was the first resource book of its kind to help faculty of all orientations incorporate anti-oppressive teaching practices and queer curricula into their classrooms. The fanzine also includes a limited-edition bookmark that can be detached and given as a gift to a queer and/or trans student.
Susan Jahoda and Caroline Woolard of BFAMFAPhD
Making and Being Cards, 2018
Set of 171 cards printed and die cut on card stock with an instruction sheet
Booklet and excerpts from Making and Being
Cards: 3.5 x 5.5 x 2 inches
Instruction sheet: 8.5 x 11
Booklet: 8.5 x 11 x .25 inches
Susan Jahoda and Caroline Woolard contribute to the ongoing work of BFAMFAPhD collective. The artists are motivated by an understanding that, as teachers in Bachelor of Fine Arts and Masters of Fine Arts programs, their pedagogical spaces are rare places where students can gather and find a community of people who do not question the value of the arts. And yet, while Jahoda and Woolard appreciate project-based and experiential learning in studio arts pedagogy, they believe studio programs may be failing students and faculty who want to talk about collaboration, healing, politics or the political economy, and who are often isolated or discouraged from having these conversations in studio programs. In response, they created a card game to offer students and faculty a resource to encourage discussions and the development of art projects on these topics.
Jen Delos Reyes
Phone Sculptures, 2016-present
Printed cards, acrylic cell phone case
6 x 3 x .25 inches
Jen Delos Reyes' instructions invite students to collectively produce a 'phone sculpture' with their cell phones; the phone sculpture must be constructed at the beginning of each class and then remain intact for its duration. The instructions are inspired by diverse art forms and practices from the history of modern and contemporary art, ranging from Dada poetry to Conceptual art. This provocative and participatory activity was designed by the artist to address what she refers to as the 'mental absences' or 'digital distractions' caused by excessive cell phone use.
Josh MacPhee
Celebrate People's History, 1998-present
Contributing artists: Jesus Barraza, Blanco & Peter Cole, Dave Buchen, Jen Cartwright, Julio Cordova, Courtney Dailey & Act Up Philadelphia, Cheyenne Garrison, Shannon Gerard & Mary Tremonte, Lana Grove, Sam Kerson, Josh MacPhee, Dylan Miner, Ricardo Levins Morales, and Carrie Moyer.
14 posters
2 color offset printed posters
11 x 17 inches each
The Celebrate People's History Posters are rooted in the DIY tradition of mass-produced political propaganda. They bring moments in the history of social justice struggles to life such as the fight for LGBTQ rights, Black liberation, and labour reform. The posters tell stories of marginalized and oppressed peoples – such as Indigenous resistance leader Gabriel Dumont, and civil rights activist Sylvia Ray Rivera – and other public intellectuals, activists, and educators who are typically written out of official history. A number of different artists and designers contributed to the collection in an effort to embody the principles of democracy, inclusion, and group participation in the writing and interpretation of history. Today, Celebrate People's History posters hang in dorm rooms, apartments, community centers, classrooms and city streets. Over 125 different designs have been printed over the past 20 years, with more than 300,000 posters printed. 14 are included in this kit. These posters help to rupture dominant narratives in school curricula and invite students to find alternative ways of understanding, researching, and writing the past.
Elana Mann
The People's Microphony Songbook, 2013
Contributors: Andrew Choate, Allison Adah Johnson, Arianne Hoffmann, Audra Wolowiec, Chris Cuellar, Daniel Goode, Danielle Adair, G Douglas Barrett, Douglas Wadle, Elana Mann, Heather Warren-Crow, Iván Sánchez, James Klopfleisch, Jenny Donovan, Juliana Snapper, Kala Pierson, Kimberly Kim, Mikal Czech, Michael Matthews, Pauline Oliveros, Rachel Finkelstein, Sascha Goldhor, and Sibyl O'Malley.
Newsprint
9 x 11.5 inches
The People's Microphony Songbook contains resistance songs inspired by the People's Microphone (also known as the People's Mic or the Human Mic), which is a technology that enables public speakers at large assemblies or gatherings to be heard without the use of electric amplification. Many contributors originally wrote songs for the Los Angeles-based experimental choir the People's Microphony Camerata. The songs explore human voice as material, political and sensorial. The People's Microphony Songbook makes these songs available to a wider public to navigate and to engage with the People's Mic, through active listening and the use of voice within a collective space.
Syrus Marcus Ware
Activist Love Letters, 2012-present
String, clothespins, poster and printed documents Dimensions variable
Activist Love Letters prompts participants to consider their own activism, and that of people who inspire them. The project is inspired by the powerful, and often hidden letters sent among activists and organizers—words of support and encouragement, rage and fear, caution and inspiration alike. Activist Love Letters asks, "If you could reach out to one person who moves you through what they do, who would it be? What would you say?" The objects and exercises lead you through the process of initiating a group writing performance, including the steps involved in hosting an event and mailing the letters afterwards.
Shannon Gerard with Pressing Issues Students
Counter with Care Poster Series, 2018
Contributors: Maddie Bellino, Leah Benetti, Geryl Cabrera, Rocio Cardoso, Angelica Granados Lopez, Riel Hattori-Caspi, Megan Moore, Cleo Peterson, Celina Sieh, Francis Tomkins, Rebecca Vaughan, Regina Xiao, and Dana Zamzu, and artist-researcher Andrea Vela Alarcon.
4 posters, envelope.
Screenprint posters: 17 x 22 inches
Envelope: 6 x 9 inches
This multicoloured poster series, created by Shannon Gerard and students enrolled in her Pressing Issues course at the Ontario College of Art and Design, contains a whimsical array of screen-printed images and textual descriptions. When unfolded, the posters reveal the faces of important feminists, writers, artists, and other radical educators such as Sister Corita Kent and Adrian Piper. Counter with Care was produced and designed in response to a curriculum document of the counterculture movement from the 1970s called Blueprint for Counter Education. Blueprint for Counter Education is a box set containing three large diagrammatic posters and an instructional manual produced by Maurice Stein and his former student Larry Miller. After studying the original posters, Gerard and her students made their own syllabus, one that pushes back against the Western, white and male-centric perspectives of the original and invites users to do the same.
People's Kitchen Collective (Sita Kuratomi Bhaumik, Jocelyn Jackson, Saqib Keval)
Kitchen Remedies, 2016
Duplicate forms, ingredients, aluminum foil pouches, remedy cards
Dimensions variable
When you didn't feel well as a child, what remedies did your parents, caretakers, or elders give you? In Kitchen Remedies, People's Kitchen Collective invites participants to bring the stories, traditions and wisdom of our elders and ancestors into the kitchen.
The collective seeks remedies for everything from upset stomachs to the patriarchy (because we know that these are, in fact, connected). Ingredients hold stories of our resilience. In the face of oppressive systems such as White supremacy, capitalism, patriarchy, the prison industrial complex, and police violence, healing ourselves is an act of self-determination. Through the act of healing we feel the strength of those who have come before us. Kitchen Remedies includes four cards corresponding to four remedies from the People's Kitchen Collective. Open a container and pass it around. Read the matching remedy card. What does it smell like? Are the remedies familiar or unfamiliar? Is there a sensation or feeling evoked with each remedy?
Alexa Hatanaka
Cut & Paste, 2019
Booklet
11 x 7 inches
Hatanaka's instructional booklet sends participants on a surreal journey through city streets in search of words with which to construct their own chance-based poems. Content is recorded through relief rubbings of historical plaques, maps, signage, or vanity license plates. Students then share the found words with one another. Hatanaka intends this exercise to spark conversations about public space, local history, or social practice methodologies. The activity asks students to embrace uncertainty and to find intention within the limitations it sets out.
PA System
Future Snowmachines in Kinngait (Process Book) & Resolution, 2017-2019
Youth collaborators: Janice Qimirpik, Lachaolasie Akesuk, David Pudlat, Moe Kelly, Nathan Adla and Christine Adamie
Self-published book and instructional insert
11 x 7 inches
Resolution is an instructional card that playfully draws on self-help strategies or visualization goal setting exercises. It invites the participant to make a miniature sculpture of a need, desire, dream, or goal, thereby making their intention tangible.
The sculptures are meant to function as a form of 'sympathetic magic,' which is based on the idea that objects can symbolically imitate or represent one's desires or intentions. The insert is paired with the Future Snowmachines in Kinngait (Process Book), a booklet that documents an ongoing project with Kinngait youth living in Cape Dorset, Nunavut. Youth sculpted imaginary snowmobiles out of playdough, which were then 3D printed and enlarged into aluminum sculptures. The sales and commissions of these snowmobile sculptures fund Kinngait's Lands and Cultural Leadership Program. Since the sculptures fund real snowmobiles for the leadership program, the youth alchemically turned their playdough gestures into functional machines.
Helen Reed and Hannah Jickling
Tacky Forms, 2019
Vinyl envelope, prompts, chicle, mastic and larch resin
9.5 x 7.5 x 1 inches
"Pulling out of my mouth the strangest forms / I suddenly realized / the existence of an extraordinary collection of abstract sculptures / passing between my teeth." – Alina Szapocznikow
Tacky Forms is a series of chewing prompts that invite participants to explore the sensory qualities of three raw gum materials (chicle, mastic, and larch resin) and the resulting forms sculpted by their tongues, teeth, jaw and cheeks. This body of work was inspired by Alina Szapocznikow's Photosculptures depicting miniature bloblike pieces of masticated chewing gum. Helen Reed and Hannah Jickling's investigation into the scientific and experiential qualities of gum is adapted from a workshop series called BUBBLETROUBLE, an extension of their ongoing project platform Big Rock Candy Mountain. For this project, the artists developed a recipe in collaboration with Grade 6 & 7 students from Queen Alexandra Elementary School in East Vancouver. The gum, specially sourced for Instant Class Kit, is accompanied by chewing prompts for 'mindful chewing' activities that transform raw gum into an alternative material for art.
Rodrigo Hernandez-Gomez
Calling, 2019
Seashell, fancy textile
Dimensions variable
Class Feedback, 2019
Amate paper, vinyl lettering
Dimensions variable
Museum Without Entrance, 2019
Digital print on silk
Dimensions variable
An Empty Shell, 2019
Album cover, vinyl record
Dimensions variable
Listening Exercise, 2019
Permanent marker on found postcard
Dimensions variable
Hernandez-Gomez adapts the brief, open-ended and occasionally absurd nature of the Fluxus score into a series of instructional pieces that can be performed either inside or outside the classroom. The artist subverts the standard form of Fluxus scores, which are typically printed on small white cards, by presenting his on silk and amate (a type of bark paper used by Indigenous peoples of central Mexico). Some prompts are also handwritten on found materials like postcards and album covers. The instructions cover three levels of time and scale: immediate action, weeklong activity, and longer-term field trips. The instructions call upon participants to perform myriad activities, including: whispering into seashells, teaching art history from an Indigenous perspective, visiting the homes of collectors, and performing esoteric numerical calculations.
Tania Willard
BUSH Gallery Manifesto, 2018 (written 2016)
Laser-etched Birchbark harvested in Secwepemcul'ecw
12 x 14.5 inches
Muslin drawstring bag 14 x 18 inches
Willard has curated a selection of statements from the manifesto of BUSH gallery, a text that she often uses as a starting point for talking about Indigenous epistemologies with students. BUSH gallery is an experimental, land-based residency that examines how "gallery systems and art mediums might be transfigured, translated and transformed by Indigenous knowledges, traditions, aesthetics, performance and land use systems." The statements are printed on bark harvested from the Secwepemcul'ecw territory in British Columbia, where BUSH gallery is located. By blending contemporary laser-etching techniques with locally-sourced materials, Willard transposes the time and space of BUSH gallery into new pedagogical settings.
Mare Liberum (Jean Barberis, Ben Cohen, Dylan Gauthier, Arthur Poisson, Sunita Prasad, Kendra Sullivan, and Stephan von Muehlen)
Liberum Dory, 2008/2018
Reprinted broadsheet with Dory stencils
22.5 x 33 inches
Radical Seafaring Broadsheet, 2015/2018
Reprinted broadsheet with Punt stencils
22.5 x 33 inches
Commissioned for the exhibition Radical Seafaring, curated by Andrea Grover for the Parrish Art Museum, Southhamptom, New York, 2016
Liberum Kayak, 2011/2018
Reprinted broadsheet with Kayak stencils
22.5 x 33 inches
Commissioned for the exhibition SeaWorthy, EFA Project Space and Flux Factory, curated by Jean Barberis, Benjamin Cohen, Dylan Gauthier, Michelle Levy, Georgia Muenster, and Kendra Sullivan, New York, 2011
This set of broadsheets and stencils, presented as a multipage newspaper, is designed for amateur boat builders and seafarers. Step-by-step instructions guide participants through the fabrication of three vessel types: Dory, Punt and Kayak. Following a methodology loosely drawn from radical designers such as Enzo Mari, DIY boat builders such as John Gardner, and the critical pedagogy of educator Paolo Friere, the Mare Liberum collective has designed and released plans for a number of water crafts to inspire others to build boats as platforms for art, inquiry, environmental learning, and activism. The name Mare Liberum is Latin, meaning 'freedom of the seas.' With this phrase, seventeenth-century jurist and philosopher Hugo Grotius proclaimed that all nations should have equal access to the sea. Following his principles, participants are encouraged to launch their newly constructed boats in local waterways, where they become vehicles to explore issues such as local history, processes of gentrification, and ecology and climate change.